To list items on this page, please email your weaving-related ad with picture(s), description, and contact information to your web weaver. Please use "SHG Marketplace Ad" as the subject of your email. Please let the web weaver know when your item has sold, so it can be removed.  Ads will remain posted for 8 weeks only unless the seller requests an extension of an additional eight weeks. Clicking on most of the photos will enlarge them.
Posted June 20, 2017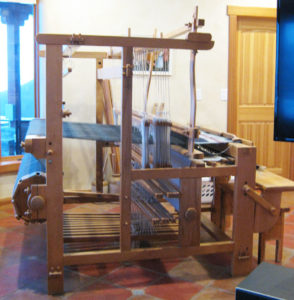 48″ Mecchia floor loom, made in New Zealand from Southland Beech. 8 shafts, 10 treadles, countermarch, with overslung beater, 8 dent reed, and cut away bench seat. Includes warp sticks, raddle, 3 rug shuttles and 4 end delivery boat shuttles with 18 bobbins; 40-48″ rug temple and 16-23″ finer work temple. Easy assembly and disassembly. Original assembly and tie-up instructions included, as well as enough wool to make many wall hangings, scarfs, other projects. Seller going overseas and can't take it along.
$1500. 00
Contact Hazel at 509-795-0094 or hztaylor05@gmail.com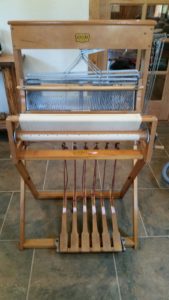 Posted May 27, 2017
FOR SALE: Leclerc 20″ vintage portable table loom to floor loom conversion.
4 harnesses, 6 treadles, wire heddles, one 12-dent reed.
$100.00
Located in Spokane.
Contact Phyllis at 360-395-5735 or pjswen@hotmail.com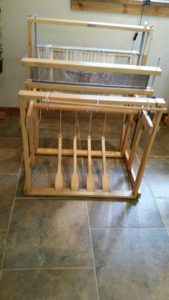 Posted May 27, 2017
FOR SALE: Ullman 24″ portable floor loom – direct tie-up, 4 harnesses, one 12-dent reed.
$350.00
Located in Spokane.
Contact Phyllis at 360-395-5735 or pjswen@hotmail.com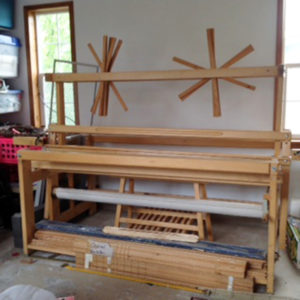 Posted May 20, 2017
ESTATE SALE: Vapapuu Finlandia countermarch loom with approximately a 72" weaving width. 8 harnesses, expandable to 16; 10 treadles. Overall loom size 80 inches wide by 49 inches deep. Comes with: • Three brand new reeds • Many brand new Texsolv heddles • Raddle • Fly shuttle mechanism and shuttles • Assorted other shuttles • Raddle • Two temples • Weaving bench
$1,200.00 obo
Loom located in Sandpoint, Idaho.
For information contact Marianne at Marianne@weehaa.ch
Posted Jan. 27, 2017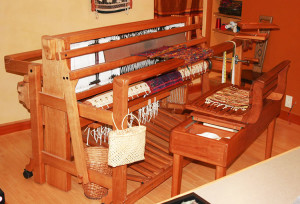 FOR SALE:
60", 10 shaft, cherry wood Fireside Loom purchased in 1990. Beautiful condition. Special features include:  worm drive tensioning, 2" sectional option, trelevators (makes lifting shafts easier), lamp holder and lamp, shuttle mobile (clamps onto loom to hold shuttles)
$4,000.00
Located on Salt Spring Island, BC
Contact Karen at  karenselk@yahoo.com for more photos and information.