To list items on this page, please email your weaving-related ad with picture(s), description, and contact information to your web weaver. Please use "SHG Marketplace Ad" as the subject of your email. Please let the web weaver know when your item has sold, so it can be removed.  Ads will remain posted for 8 weeks only unless the seller requests an extension of an additional eight weeks. Clicking on most of the photos will enlarge them.
Posted August 6, 2017
FOR SALE:  All the looms can be viewed at Paradise Fibers during business hours. Need to ask about them at the desk, since they are not in the showroom yet (but in the building).  Local purchase only. 225 W Indiana, Spokane WA 99205.  509-536-7746.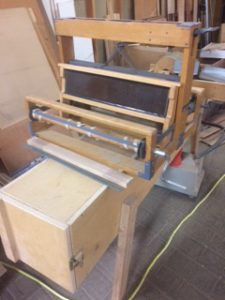 Table loom:  20″ wide with four shafts, in good working order. The brand is unknown, but appears to be commercially made. Cost $300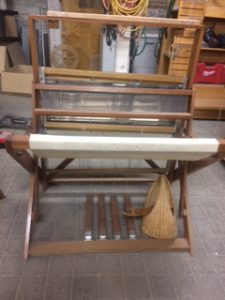 Floor loom:  31″ wide, 4 shafts and a very nice loom. It needs some tie-up configuration help. It has some nice shuttles and sticks. It is homemade and well thought out with high quality components (cogs, handles, etc.) Cost $600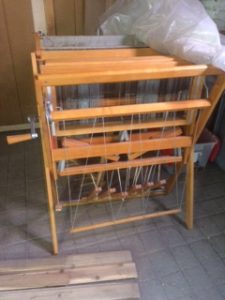 Schacht Baby Wolf:  4 shaft. Looks like new return or floor model. Includes trap, sticks, shuttles.  $1150.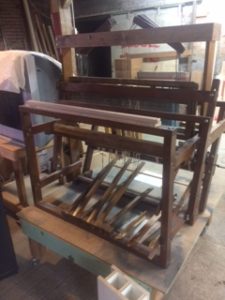 Floor loom:  4 shaft, 36″ wide. Repaired, complete and ready to go. Includes sticks and shuttles.  $700.
Posted August 4, 2017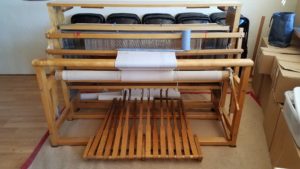 FOR SALE:  Nilus LeClerc.  Total width is 72 inches, weaving width is 58 inches, 12 shaft, 14 treadles, metal heddles and the back beam is convertible to sectional.
Asking $2000 and buyer pays shipping.
Contact Viki at wildflagweaver@gmail.com
Posted August 3, 2017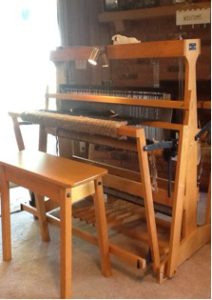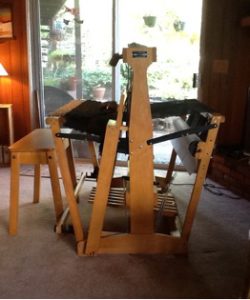 MACOMBER B-5 AD-A-HARNESS LOOM
4 harnesses, 6 more can be added. 6 treadles, 40" weaving width, 8 and
12 dent reeds, 1200 steel heddles.  Bench with storage.  Very good condition.  Located in
Moscow, ID  $800.  Contact Barbara at 208-835-4240  or grindle.barbara@gmail.com
Posted July 26, 2017
FOR SALE: Multiple looms (floor and table) and/or loom parts, spinning wheels.  Best offer, some free. Located in Nine Mile Falls.
For pictures and info, please contact Cindy at cindyonline99@yahoo.com
Posted July 14, 2017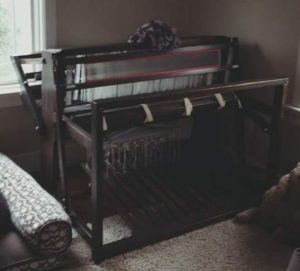 41″ 8-shaft Herald
Texsolv heddles and tie-ups
10-dent reed
Detachable sectional beam
Folding back beam
All wood is in fabulous shape. Current warp not included. I'd love to trade for another 8+ shaft. This breast beam is a bit tall for me.
$1000 OBO or trade
Please email: clh2391@gmail.com
Posted May 27, 2017
FOR SALE: Leclerc 20″ vintage portable table loom to floor loom conversion.
4 harnesses, 6 treadles, wire heddles, one 12-dent reed.
$100.00
Located in Spokane.
Contact Phyllis at 360-395-5735 or pjswen@hotmail.com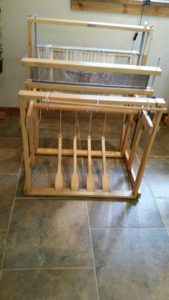 Posted May 27, 2017
FOR SALE: Ullman 24″ portable floor loom – direct tie-up, 4 harnesses, one 12-dent reed.
$350.00
Located in Spokane.
Contact Phyllis at 360-395-5735 or pjswen@hotmail.com