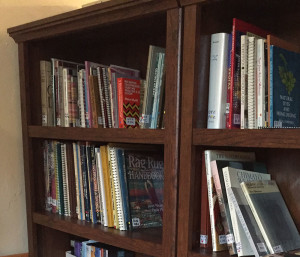 The Guild library holdingds are now fully listed online at  www.librarything.com/catalog/spokaneweavers
SHG has well over 200 books, videos and magazines available for members' use. Browse the collection to find weaving drafts, projects ideas, technical information and weaving inspiration.
You can see what's in the collection, including what's currently available for check out, right online from the comfort of your home at www.librarything.com/catalog/spokaneweavers. Borrow materials and return them at any Guild meeting or other times the Guild Hall is occupied.
Questions? Purchase suggestions? Want to make a donation? Contact members of your library committee by email at library@spokanehandweavers.org
SHG members, please use your Guild library! You'll be glad you did!