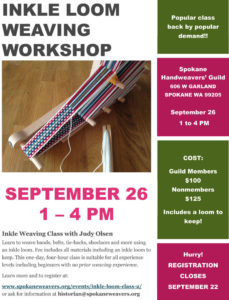 Offered Again By Popular Demand:
Inkle Loom Weaving Workshop – September 26
Read more and find out how to register here!
---
Tote Basket Workshop a Big Success
Thanks to all who participated and to our instructor, Olivia Giannisi!  We had lots of fun and everyone made a gorgeous tote basket!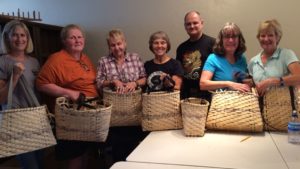 ---
Convergence News – 2018 in Reno
Handweavers Guild of America has published a list of the Convergence Leaders here:
http://www.weavespindye.org/convergence-2018-leaders
---
A  monthly program and meeting, a dye study group and more. See what's happening at the Spokane Handweavers' Guild: Upcoming Guild Meetings & Other SHG Events
---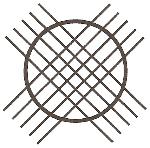 Spokane Handweavers' Guild is nonprofit, membership-driven organization for handweavers, spinners, basket-makers and others who engage in textile arts. Activities include:
Monthly guild meetings are typically held on the second Sunday afternoon of each month beginning at 1:00 PM.
Monthly meetings offer a variety of programs on topics such as handweaving, felting, spinning, basket-making, and a variety of other subjects connected to the fiber arts. Meetings are informal, relaxed events where all skill levels can learn, participate and enjoy.
Study groups, which are small groups of individuals who choose to focus on particular areas of interest.
Maintenance of an extensive library of books, magazines, videos and equipment for the use of Guild members.
Intensive, two- or three-day workshops with both local and internationally-known fiber arts instructors. Workshops are offered at least twice each year to Guild members and on a space-available basis to the public.
Annual sale of members' work every autumn in the Guild Hall
We welcome you to attend our meetings and get to know us! Or, go ahead and become a member now. Learn more on the Membership page, including how to join online.
Find information about all upcoming meetings and events on the Upcoming Events page.
Please explore this web site and don't forget to take a look at the beautiful weaving that's always underway or has just been completed on our members' looms: On Our Looms